Shopping Cart
Your Cart is Empty
Thank you for your business!
You should be receiving an order confirmation from Paypal shortly.
Exit Shopping Cart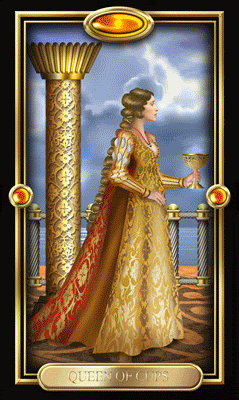 Your Tarot Deck is one tool used to connect with Spirit. Please remember that your client shuffles and cuts the Tarot Deck. The cards turned during your reading are that of your client, not the reader. The tarot cards act as a guide for your own intuitive abilities. Most readers do not research the meanings of each tarot card. You intuitively receive messages from your guides and angels as well as the clients' guides and angels to interpret the meaning of the tarot card turned. You are in fact, acting as a telephone. This is what the creator of Tarot intended.
Get to know your Tarot Cards. When choosing a deck, close your eyes and feel the pack in your hands...you will know when you pick up the deck that is best suited for you. Get to know your tarot cards. Look at each card and go with the first impression you feel, see and hear. What do you feel this would mean in a reading? What is emotional, spiritual and physical feeling of your client? Spend time with your tarot deck before looking up each meaning.
A little education piece on the Tarot...
There are a total of 78 Tarot Cards that are split into two main groups:
The Major Arcana and the Minor Arcana
There are 21 Major Arcana Cards plus the Fool Card and 56 Minor Arcana Cards which are divided into 4 suites...Cups, Swords, Spheres and Wands.
Quick Breakdown of the Major Arcana Cards...Fool, Magician, High Priestess, Empress, Emperor, Hierophant, Lovers, Chariot, Strength, Hermit, Wheel of Fortune, Justice, Hanged Man, Temperance, Devil, Tower, Star, Moon, Sun, Judgment and World. Begin by getting to know these 22 tarot cards first.
Quick Breakdown of the Minor Arcana Cards: Cups (Water) - Emotions, Love, Psychic Powers, Swords (Air) - Thinking, Problem Solving, Spheres (Earth) Material World, Finances, Health, Wands (Fire) - Passion, Career
There are four Court Tarot Cards to each suit...Page, Knight, Queen, King and the rest of the deck is broken down to Ace through 10...please click here to learn each cards meaning...
Buy YOUR Tarot Deck at Amazon.com

Psychic Medium, Tarot Reader, Spirtiual Coach
"If anyone reading this is a skeptic of psychic mediums, I challenge you to be open minded and give her a try....read more" Sarah G.

"Suzi is perhaps the most heart-centered psychic medium I've ever encountered...read more"- Dustin

"Be prepared! Be prepared to be surprised. After three days, I am still digesting the information...read more"-Dianne

0

/